Morningside Tennis Centre | Our Staff
The Morningside Tennis Centre employs two full-time management staff, six full-time tennis coaches and also has a number of self-employed and junior tennis coaches providing group and private coaching.
All of our coaches are Tennis Australia qualified, licensed, Blue Card checked and first aid trained.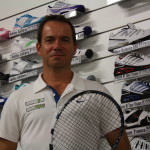 Owner / Director: Mark Bloomfield
Mark is the owner and operator of Tennis Gear, a tennis centre management company that operates three of Brisbane's best tennis centres.  He is a qualified Tennis Australia accredited Development Coach and Hotshots Provider, a former member of the Tennis Coaches Australia (TCAQ),  a member of USRSA (United States Racquet Stringers Association)  and also a Chartered Accountant.  Mark purchased the Everton Tennis Centre in 2000 and has since built up the centre to be widely regarded as one of the best managed tennis facilities in Brisbane.  Everton Tennis Centre, Shaw Park  and Morningside Tennis Centre proudly boast the most successful specialist tennis pro-shops in South-East Queensland.   Mark is dedicated to tennis facility administration while maintaining the highest level of customer service and tennis equipment knowledge.
General Manager & Tennis Gear Retail Manager: Shane Mikic
Shane began working with Everton Tennis in 2003. His role as Retail Manager involves the administration of our retail operation and staffing, as well as coordinating our fixture programs. He began his tennis working life in Townsville where he was employed as a tennis coach. After his move to Brisbane he worked in retail while continuing to work as a coach and a restringer. We are very proud to have Shane working for Tennis Gear, his tennis knowledge and stringing ability is second to none. Shane is a regular participant in the local open tennis tournaments, is a member of the USRSA and well known in the tennis community for his extensive knowledge of tennis equipment and string.  Shane has been a member of the Wilson Global Stringing Team since 2010 and strings at the Austrlian Open and US Open each year.
Assistant Manager: Benita Smith
Benita joined the Tennis Gear team in  and came across to Morningside as the Assistant Manager in 2013. Benita achieved a Bachelors Degree in Business from the Shorter University in Rome, Georgia and achieved academic merit in Management, Finance, Communications and Human Resources.  Benita was educated at Townsville Grammer School and was awarded a tennis scholarship to study and play in the USA.  The Shorter University womens tennis team played in the highest college tennis division and were qualifier national champions (NAIA).  International travel and a life of tennis gives Benita the necessary skills to make an outstanding contribution to our centres.
Head Coach: Ross Orford (Current Queensland Club Tennis Coach of the Year)
Ross Orford brings a huge amount of experience into his role as Head Coach at the Morningside Tennis Centre. As a player Ross travelled the world competing in numerous ATP tournaments including the Australian Open. Before joining Tennis Gear Ross was the Head Coach at the UQ Sport for nearly 20 years and has coached players of all ages and standards. A previous Tennis Queensland Coach of the Year winner, Ross's affable nature combined with his experience and knowledge of the game make him one of Queensland's best tennis coaches.
Other Key Tennis Gear Staff
Tennis Gear Director of Coaching: Gareth Keating
Gareth has returned to Brisbane after 11 years playing and coaching overseas.  After a strong junior career in Queensland, he was awarded a scholarship in the USA to play 4 years of Div 1 College tennis.  After completing a Business degree, Gareth worked for 5 years coaching at a high performance academy in Nice, France.  Recently Gareth has worked as a travelling/touring coach for some of the top doubles players in the world, travelling to the Grand Slams and other pro tournaments.  A recognised "Talent Development Coach", Gareth is now responsible for the coaching programs at the Shaw Park Tennis Centre, the Everton Tennis Centre and 14 schools in the area.
Tennis Gear Promotions Manager: Scott Beckingsale
Scott is involved heavily at all of our tennis centres and school based programs.   Scott's main focus is to continue the development of existing programs and opportunities to grow tennis within the Tennis Gear communities. In recent times he has been working in conjunction with the Australian Sports Commission/AASC in developing an initiative to offer tennis to students of the active after school care facilities. This has successfully started and has around 30 venues linking back to Shaw Park, Everton Park, and Morningside tennis centres.  Scott is also a fully qualified personal trainer and works with our junior development players on a weekly basis developing speed, strength, movement and other physical attributes of the game.
Tennis Gear Accounts Administrator: Shane Gordon

Shane brings a wealth of experience to his Accounts position having completed a Bachelor in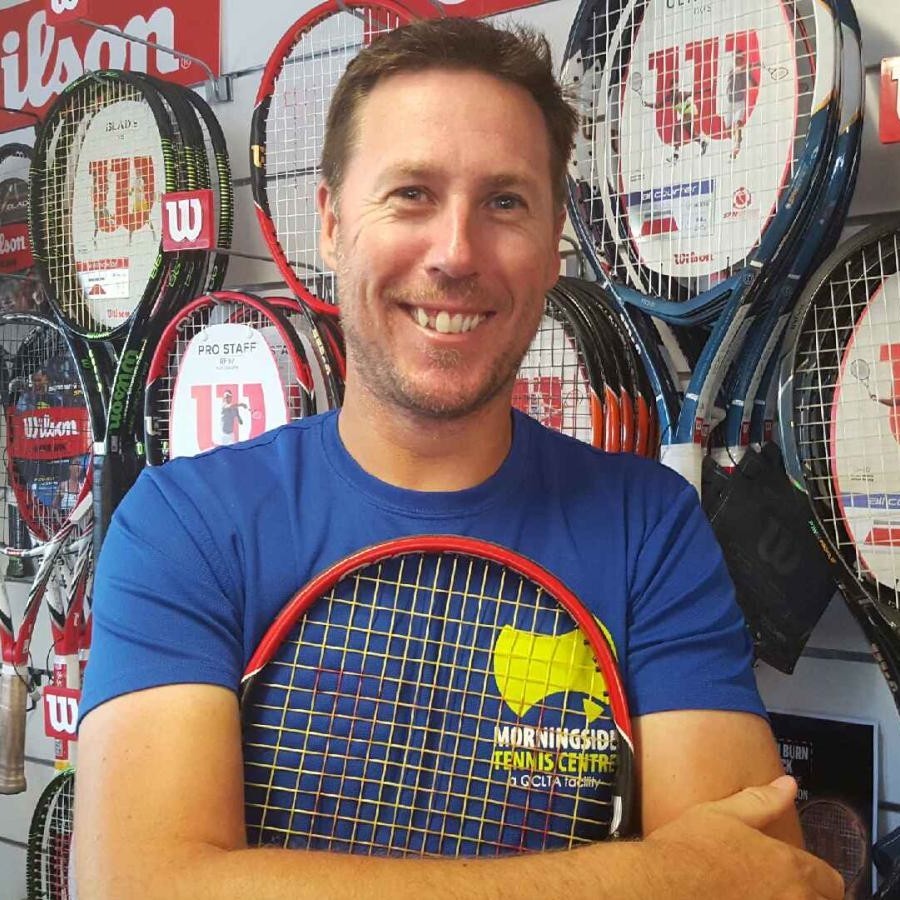 Business and Commerce, and working as QLD Manager for a global recruitment company.  After living and working in a number of countries, including Japan, New Zealand, and Australia, Shane enjoys an appreciation for many different cultures. With his kind and easygoing nature, Shane has built customer rapporteur and is a key figure in our tennis community.  He is a customer service specialist and Senior Tennis Coach at the Morningside Tennis Centre, and keeps our operations running smoothly.
His role is to prioritise ensuring your fortnightly payments are correct. Shane can be contacted at accounts@tennisgear.com.au
Contact us to talk about the best tennis coaches Brisbane has to offer today