Morningside Tennis Centre | School Holiday Clinics
School Holiday Clinics & Tennis Coaching
Each school holidays the Morningside Tennis Centre plays host to some of the biggest Holiday Tennis Coaching Clinics in Brisbane. Around 120 kids usually take part in our holiday program which is run by Head Coach Ross Orford.
Come along and join our school holiday clinics with our fabulous coaching team for a mix of fun, technical and physical activities that cater to players of all standards between the ages of 4 & 16 years.
Why spend the holidays in front of the TV! Get out and enjoy the perfect school holiday activity!
Join the fun these school holidays! Book your spot
Get on top of your school holiday planning early and book the kids in for our Christmas tennis clinic. They will enjoy a full day of tennis from 9am-3pm developing both technical and tactical areas of their game. With plenty of fun and games thrown in, they will be begging to come back again the next day!
Morningside Tennis Centre will be offering four 5 day clinics in the Christmas Holidays:
Clinic 4 Monday 16th January – Friday 20th January
Click here to enrol into our Red Hot Shots Clinic (5-8yrs)
Click here to enrol into our Orange Hot Shots Clinic (8-10yrs)
Click here to enrol into our Green Hot Shots Clinic (9+yrs)
Click here to enrol into our Yellow Ball Holiday Clinic (12+yrs)
Holiday clinics are the perfect way to get some additional practice over the break and keep the kids entertained. They also act as an excellent introduction to the sport for those who have never played before. We cater for all levels of player between 4 and 17 years.
Click here for our Holiday clinic enrolment form. These can be returned to the centre by email or you can simply phone the enrolment through by contacting 3899 8110. For more information, call our office or visit our website at www.morningsidetennis.com.au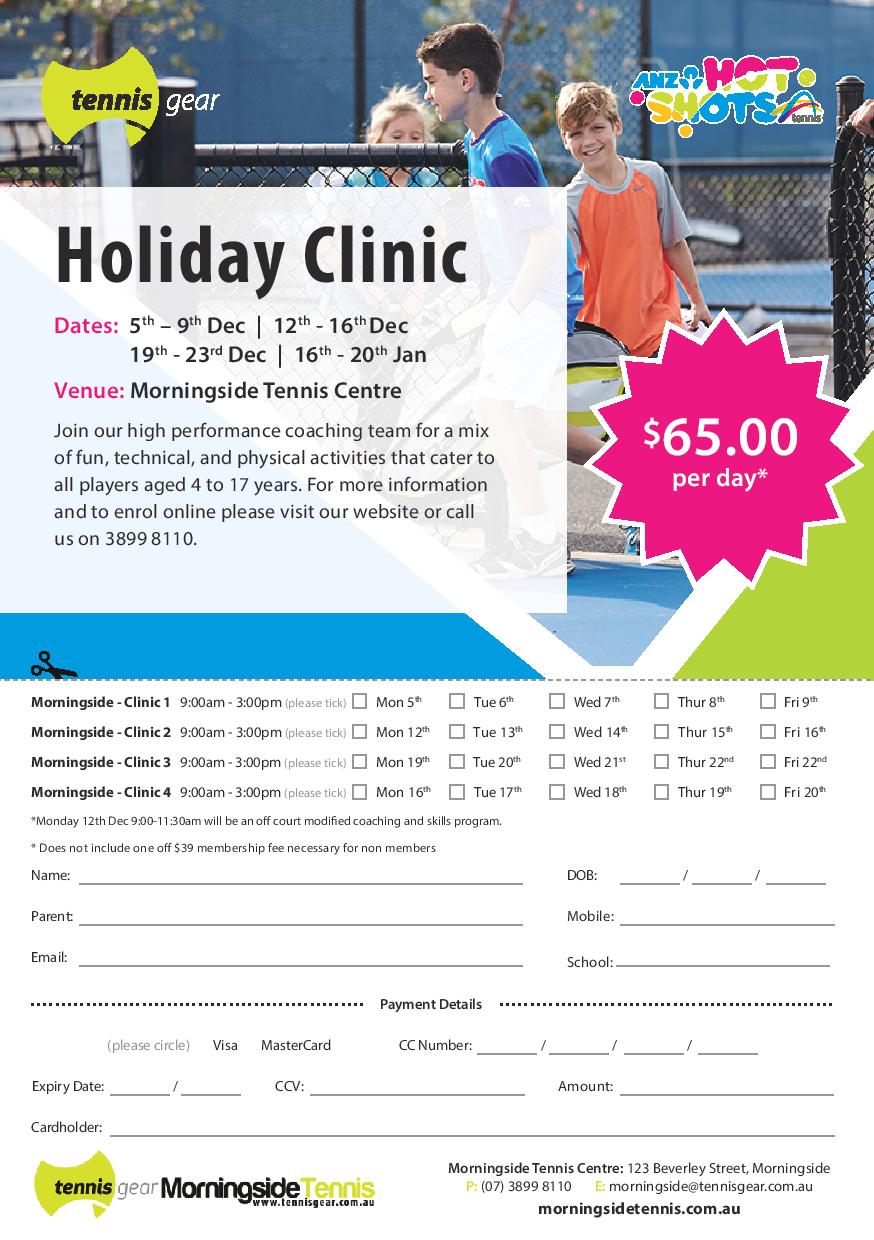 Don't forget Tennis Gear also run Holiday Clinics at all of our fantastic Brisbane tennis centres – check out our sites at Shaw Park  in Wooloowin and  Emerson Tennis Centre in Milton for more information on their upcoming holiday program.