Nominate for next season
It seems like a lifetime away, but all centres are already collecting individual and team nominations for next season. Grading for season one 2017 will take place during the holiday break. We would like to cross our T's and dot our I's early to ensure TennisGear teams have the best chance of being graded correctly. Be sure to start the conversation with your team and centre staff when you see them next.

The Shawesome foursome
We have always believed in our teams, but our division 4 players on Thursday night SuperLeague really came through this season. All four teams successfully made it to the semi finals to battle it out against each other for a place in the Grand final. Two exciting Semi finals saw Shaw Aero: Craig and Deb (top left) and Ray (not pictured), and Shaw Oblivion: Jan and Deb (bottom right) advance. Bad luck to Shaw Faster: Niv and Joab (top right) and Shaw Shakers: Anish and Lisa (bottom left).
It was Shaw Aero who held their nerve in the Grand final and were able to secure the title. Congratulations for an outstanding season everyone, you've earnt a well deserved break before the new season starts next year.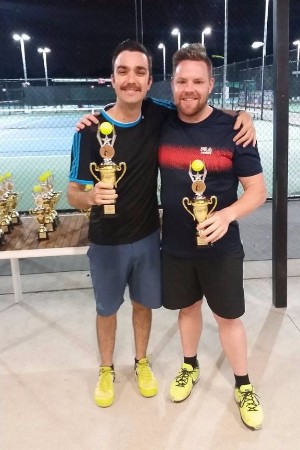 Ben & Ben valiant in defeat
They may not have won the final, but no one can deny the fighting spirit of the Emerson Ivanovic Playing in Division 1 of Thursday night's competition. Ben Keightley (left) and Ben Devenish-Mears (right) teamed up for the first time in a season filled with ups and downs. Overcoming these challenges has brought these guys closer together and we are certain willl make them a formidible team in the future.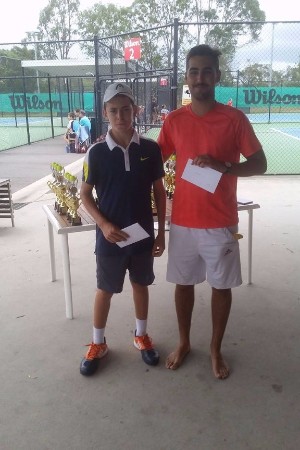 SG 5 goes to Emerson
A hard fought season paid off for the smiling assassins, Aiden and George, in the Super Grade 5 Grand final on Saturday afternoon. The boys were able to see of their opponents from Lifetime to win 4 sets to 1. The Emerson Lakers will look to continue their success next season in Super Grade 3, slowly working their way up to the top division that Tennis Brisbane offers. Well done guys!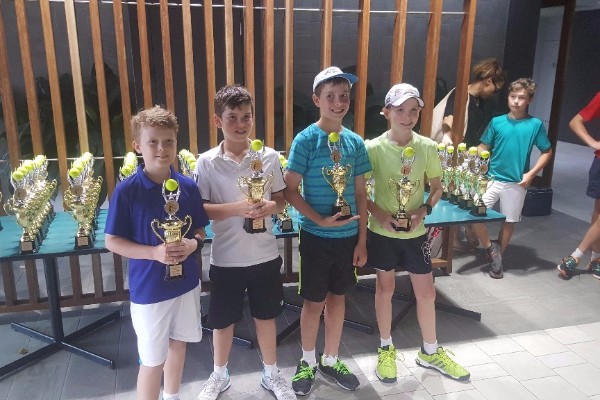 Extreme happiness for Emerson in JL4
We're extremely proud of the Emerson Extreme in Junior League 4 on Saturdays. Sam, Matt, Isaac and Cameron went into their grand final at Club Coops as the underdogs having finished third on the points ladder at the season end. The boys backed up their convincing semi final win with another great effort in the final, dropping just one set to win the trophy. We're pegging this team as the one to watch going into next season. Well done lads!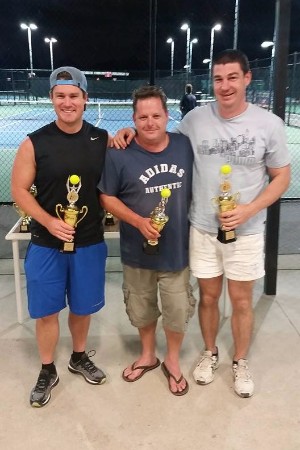 Doing it for Duncan
When injury ruined Duncan's (middle) season things were looking pretty grim. Fortunately, his team-mates Lucas (left) and Nick (right) were there are ready to step up to the plate. They managed to cling on to secure the division 1 title for Thursday night Superleague beating Emerson in the grand final. In this case the guys were lucky. They had all played enough matches during the season to meet eligibility requirements for semis and finals. The rules state that a player must have played a minimum of 4 matches during the season. Well done Shaw Baseline, best of luck in Super Reserve next season.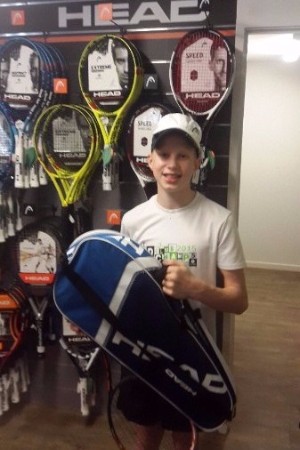 Hugo comes up a winner
Well done to all the Sunday Junior League finalists on a phenomenal season. Also a big congratulations to Shaw Park's Hugo Veerman who won the draw for a prize pack kindly donated by Tennis Brisbane and Head. Hugo has won himself a Head tennis racquet of his choice, a racquet bag, cap, and a 3 pack of Head grips. What more could a young tennis player need? Hugo and his partner, Sophie, had a great season in Junior League 1 playing for Shaw Shockwave. We look forward to see Hugo hit the courts in his new gear next season.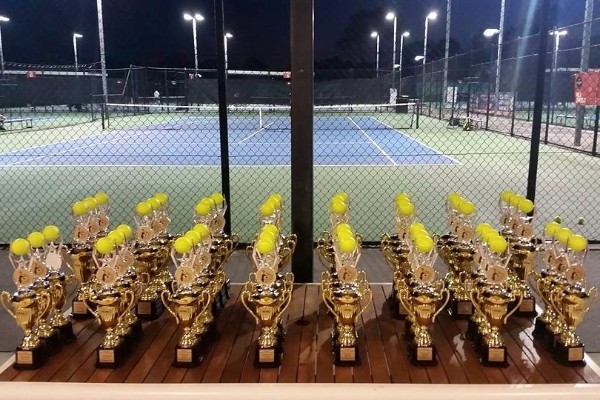 TennisGear Finalists Season 2 2016
Well done to all of our teams this season. We saw a season of hard work and dedication pay off for a number of our players who were able to make it to the Grand final of their division. Congratulations to:
Morningside Mavericks- Winners- Saturday Division 2 (southside)
Morningside Majestics- Winners- Saturday Division 3 (southside)
Morningside Marvellous- Runner up- Tuesday Division SR (southside)
Morningside Maestros- Winners- Wednesday Division SR (southside)
Morningside Martians- Winners- Wednesday Division 1 (southside)
Morningside Mushrooms- Runner-up- Wednesday Division 1 (southside)
Morningside Mojo- Winners- Wednesday Division 2 (southside)
Morningside Mustangs- Runner up- Wednesday Division 2 (southside)
Morningside Matchbox- Runner up- Wednesday Division 3 (southside)
Emerson Lakers- Winners- Saturday Super Grade 5
Emerson Clippers- Winners- Saturday Super Reserve
Emerson Excellent- Runner up- Saturday Junior League 2
Emerson Extreme- Winners- Saturday Junior League 4
Emerson Stars- Winners- Saturday Junior League Green B
Emerson All Stars- Runner up- Saturday Junior League Green B
Emerson GSD- Runners up- Tuesday Division 2
Emerson Aces- Winners- Tuesday Division 3
Emerson Eagles- Runners up- Tuesday Division 3
Emerson Chargers- Winners- Wednesday Division 1
Emerson Energy- Runner up- Wednesday Division 1
Emerson Entourage- Winners- Wednesday Division 2
Emerson Brewskis- Runner up- Wednesday Division 2
Emerson Tadpoles- Winners- Wednesday Division 3
Emerson Deuce Bags- Winners- Thursday Super Reserve
Emerson Ivanovic- Runner up- Thursday Division 1
Emerson Hot Shots- Winners- Thursday Division 2
Shaw Park Winners- Runner up- Saturday Super Grade 3
Shaw Park Storm- Runner up- Saturday Division 1
Shaw Park Comeback- Winners- Tuesday Division 4
Shaw Park Will- Winners- Tuesday Division 6
Shaw Park Shooters- Runner up- Tuesday Division 6
Shaw Park Viva- Winners- Wednesday Super Grade
Shaw Park Smashers- Runner up- Tuesday Super Reserve
Shaw Park Sharks- Runner up- Tuesday Division 3
Shaw Park Hardcore- Runner up- Thursday Super Reserve
Shaw Park Baseline- Winners- Thursday Division 1
Shaw Park Hawks- Winners- Thursday Division 3
Shaw Park Chargers- Runner up- Thursday Division 3
Shaw Park Aero- Winners- Thursday Division 4
Shaw Park Oblivion- Runner up- Thursday Division 4
Shaw Park Volleys- Winners- Thursday Division 5
Shaw Park Upstarts- Runner up- Thursday Division 5